BSN Visa Debit Card offers a host of benefits to help you live your life easy and debt free.
MORE BENEFITS
Cashless Shopping

The BSN Visa Debit Card not only allows you to withdraw cash from ATMs, but you can also enjoy cashless shopping through over a million POS (Point of Sale) terminals. Just present your BSN Debit card to the cashier, enter your 6-digit PIN and your bank account will be debited for your payment instantly.

Your new debit card supports two debit card networks in Point-of-Sale terminals:

MyDebit (accepted in Malaysia).


Visa (accepted in Malaysia and overseas).

Shop, Wave & Go with Visa payWave


Now you can just shop, wave and go for everyday purchases under RM250 at participating merchant outlets with the Visa payWave reader. No signature is required. Experience the convenience of paying for everyday things such as coffee, meals and movies without fumbling around for cash.

Here's how it works!


| | |
| --- | --- |
| | Step 1 : Look for this symbol |
| | Step 2 : Shop |
| | Step 3 : Wave your card in front of the reader |
| | Step 4 : Collect your purchases and go |

Shop Online




The BSN Visa Debit Card can be used to make online purchases from websites such as AirAsia, iTunes, Lazada and many more.

Just follow these 3 simple steps:

Shop online at any 3D Secure merchants using your BSN Visa Debit Card.
Enter your debit card details as required and proceed to payment page.

Your BSN Online Secured Shopping (BOSS) code will be sent to your registered mobile number with us via SMS at no cost.

Enter the BOSS code to complete the authentication process and payment.

IMPORTANT: Please ensure that you update your latest mobile phone number with BSN to ensure the BOSS Code is sent to you. You can update your contact details via any BSN ATM or call our Customer Service Centre at 1300-88-1900.
Real-Time Transaction




Whether you use your BSN Visa Debit Card for purchases or at the ATM, you'll appreciate having the most up-to-date account information available immediately. With real-time processing, the funds in your savings/current account are automatically deducted whenever a transaction is processed using your BSN Visa Debit Card. You can also view your account balances and transaction details via MyBSN internet banking or inquire on your available balance at the ATM. 

Access to Ejen Bank (EB) services




You can also use your new BSN Visa Debit Card at any EB agent outlet for services such as:

»  Retail Purchases    
»  Prepaid Top-up
»  Bill Payments    
»  E-SSP Purchases
»  Deposits    
»  Cash Withdrawals

For more information on EB and the complete list of EB agents, please click here.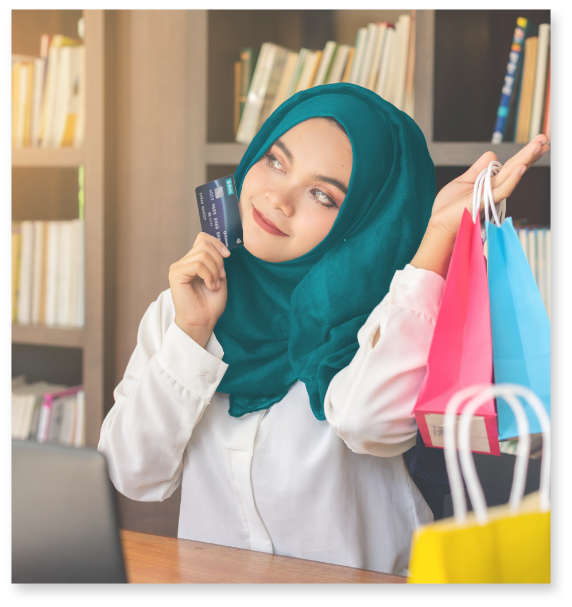 USING YOUR DEBIT CARD
The daily default purchase limit for BSN Visa Debit Cards is as follows:
| | | |
| --- | --- | --- |
| Individual Account  | Daily Default Purchase Limit | Maximum Daily Purchase Limit |
| Teenager/ Junior Account  | RM200 | RM500 |
| Adult Account | RM3,000 | RM10,000 |
To enjoy uninterrupted transactions, please ensure you have activated the usage function on your debit card before performing the following transactions:
Overseas spend

Online spend


Purchase limit
TO ACTIVATE, FOLLOW THE STEPS BELOW:
Function
myBSN Internet Banking
BSN ATM 

To Activate "Overseas Transaction"

i) First-time User

Click "Register"on the top right corner of BSN's home page.

Upon successful registration, proceed to step (ii) below.

ii) Existing myBSN User

Log in to myBSN.

Select "Manage Account" and click "Debit Card".

Select "Update Overseas Transaction Status", select "Debit Card"and click "Next".

Select "Permanently Activated"or "Temporary Activated"or "Deactivated".

Enter the effective date, "Start/End date"and click "Next". 

Click "Request TAC" (Your TAC will be sent to your mobile number registered with BSN).

Enter TAC and click "Next".

You will receive a message upon successful Overseas Transaction update. 

Insert your BSN Visa Debit Card

Select "PIN CHANGE / OTHERS"

Select "MAINTENANCE".

Select "OVERSEAS TRANSACTION"

Select "TEMPORARY ACTIVATION"or "PERMANENT ACTIVATION" 

To Activate "Online Transaction"

i) First-time User

Click "Register"on the top right corner of BSN's home page.

Upon successful registration, proceed to step (ii) below.

ii) Existing myBSN User

Log in to myBSN.

Select "Manage Account" and click "Debit Card".

Select "Update Online Purchase Status", select "Debit Card"and click "Next".

Select "Permanently Activated"or "Temporary Activated"or "Deactivated".

Enter the effective date, "Start/End date"and click "Next". 

Click "Request TAC" (Your TAC will be sent to your mobile number registered with BSN).

Enter TAC and click "Next".

You will receive a message upon successful Online Transaction update. 

Insert your BSN Visa Debit Card

Select "PIN CHANGE / OTHERS"

Select "MAINTENANCE"

Select "ONLINE PURCHASE"

Select "TEMPORARY ACTIVATION"or "PERMANENT ACTIVATION" 

To Set / Change "Purchase Limit"

i) First-time User

Click "Register"on the top right corner of BSN's home page.

Upon successful registration, proceed to step (ii) below.

ii) Existing myBSN User

Log in to myBSN.

Select "Manage Account" and click "Debit Card".

Select "Update Purchase Limit", select "Debit Card"and click "Next".

Select "new purchase limit amount" and click "Next".

Click "Request TAC" (Your TAC will be sent to your mobile number registered with BSN).

Enter TAC and click "Next".

You will receive a message upon successful Purchase Limit update. 

Insert your BSN Visa Debit Card

Select "PIN CHANGE / OTHERS"

Select "MAINTENANCE"

Select "CHANGE PURCHASE LIMIT"

Select "TEMPORARY ACTIVATION"or "PERMANENT ACTIVATION" 

Note: Default daily purchase limit is RM3,000 (maximum setting is up to RM10,000)
HOW TO ACTIVATE YOUR BSN DEBIT CARD ONLINE PURCHASE FUNCTION
Alternatively, you may activate your "Overseas Transaction" and "Online Transaction" function via the following channels:
BSN branch

BSN Customer Service Centre at 1300-88-1900 or +603 2013 1900 (Outside Malaysia)